Bay Area Home Prices Maintained Record
​​​​​​​In November Despite Pandemic Related Factors.
According to the California Association of Realtors, November stats show the median price paid for an existing, single-family home in the Bay Area was $1.1 million, up 18.9% from last November with sales up 34.4%.
​​​​​​​Last week, the California Department of Finance reported that the state's population slowly increased by only 0.05% between July of this year and last, while growth rates continue to decline. California is currently at a record low state population growth rate since 1900. Reasons for the decline in population growth include low birth rate, high death rate, and more people moving out of the state.
Bay Area home prices stay high
Even though some people moved away from the Bay Area during the pandemic, home prices remained at record levels.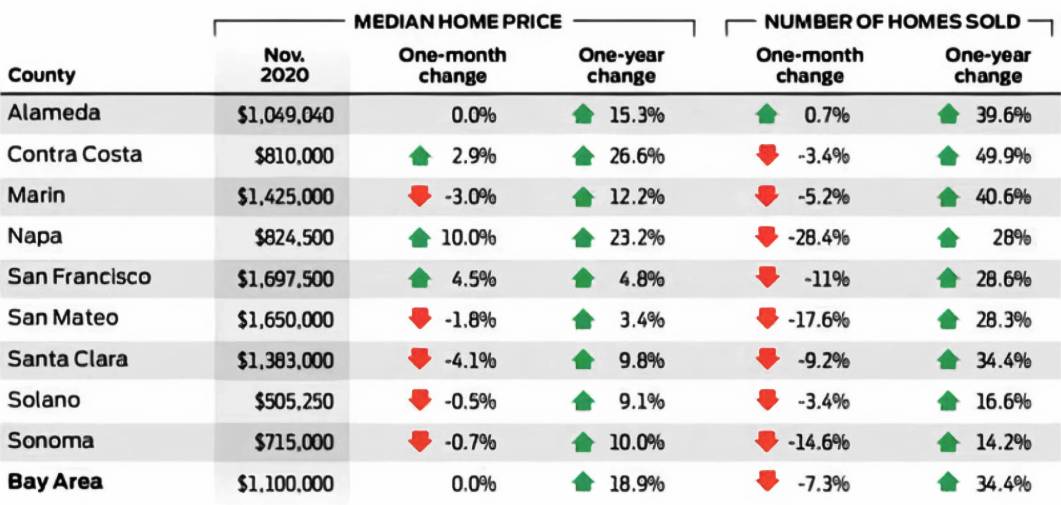 - The median price paid for a Bay Area condo last month was $750,000, up 1.4% from October and up 2.7% from November 2019.
- In the Bay Area, the population declined in Napa, Sonoma, Marin and San Mateo countries. It rose in the five other countries, but at slower rates than the previous year. San Francisco had the "fastest" growth rate, 0.31%.
- Even if there was less demand (for homes) this year, we are still up against 30 years of underbuilding. There is still such an imbalance of supply and demand, which is one reason we are seeing out-migration.
For more information on the current real estate market, or to find out the value of your home – call, text, or email me today.