Located in the heart of Napa Valley, St. Helena has a great selection of coffee houses — perfect for the morning after a long vineyard tour and wine tasting. From cozy cafés to full-blown restaurants, there are plenty of places to grab a cup.
1. The Model Bakery
For the best bread and pastries in St. Helena, the Model Bakery is a must-visit downtown. Locals have been enjoying fresh delicacies here since 1908. Along with a wide selection of coffee and tea, The Model Bakery serves breakfast and lunch to go with your beverage of choice. Enjoy an English muffin paired with a side of bacon for an early morning treat, or order the chicken salad croissant for an afternoon bite. You can order inside or curbside. The bakery's open between 6:30 AM to 3:00 PM, Sunday to Thursday; and 6:30 AM to 4:00 PM on Friday and Saturday.
2. Napa Valley Roasting Company
Experience freshly roasted specialty coffee at the Napa Valley Roasting Company. From local favorites to traditional coffee concoctions, this restaurant creates signature blends and produces coffee for some of Napa Valley's most acclaimed restaurants and wineries. Their beans come from Indonesia, Africa, and the Americas. Some of their signature drinks include a white chocolate mocha, iced coffee, and caramel frappés. Their dessert menu contains a daily selection of delicious baked pastries, cookies, and donuts. You can also order freshly roasted coffee to be delivered directly to your home. During the week, Napa Valley Roasting Company is open from 7:00 AM to 4:00 PM, and from 7:00 AM to 2:00 PM on the weekends.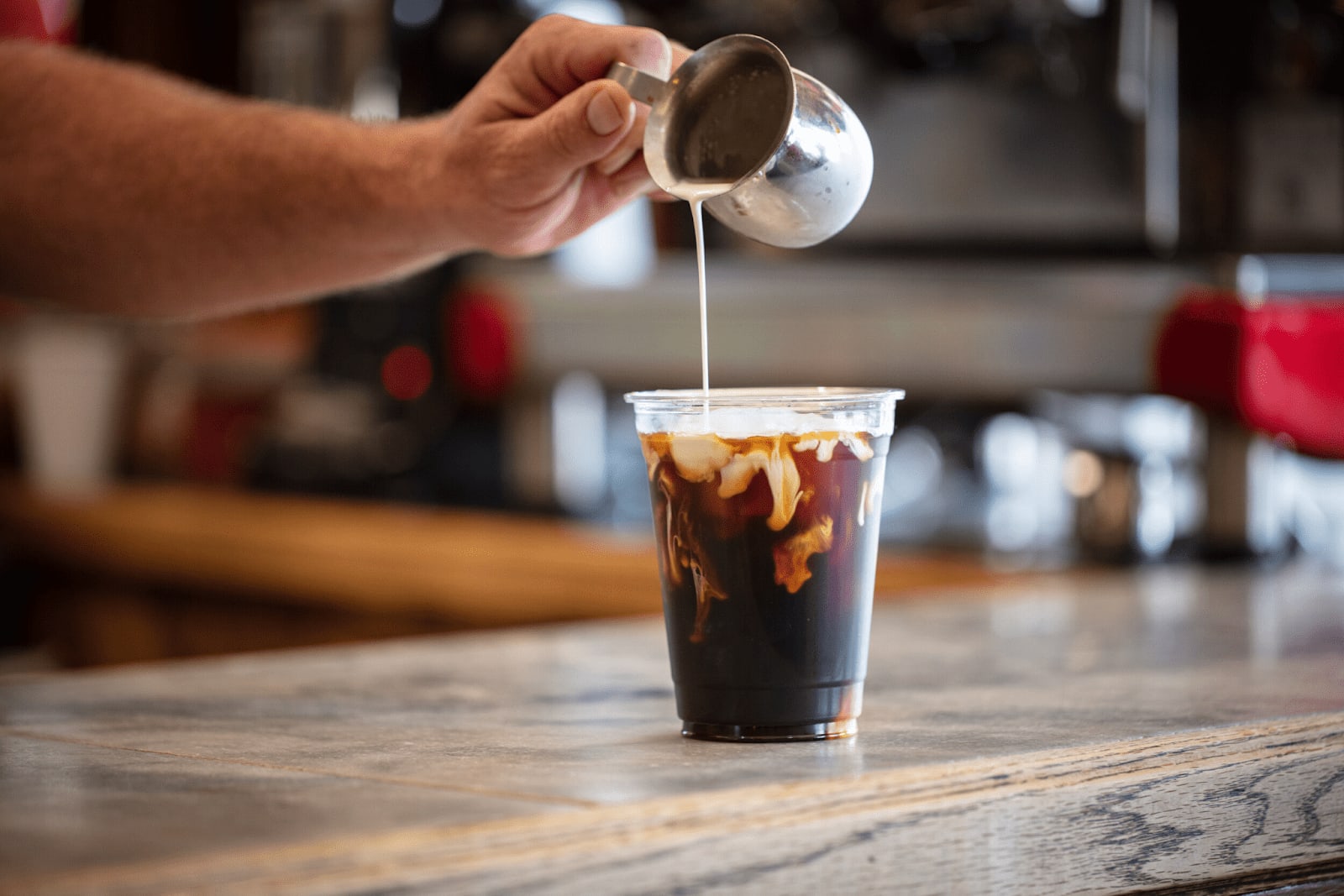 Credit: Napa Valley Roasting Company
3. Gillwoods Café
Since 1991, Gillwoods Café has delivered classic, home-style dishes created from the freshest ingredients in Napa Valley. Beyond a diverse selection of coffee drinks, the café serves breakfast and lunch with delectable options such as fresh chive omelets, country-fried steak, and grilled pesto chicken. Guests can enjoy these dishes in a casual atmosphere, which makes Gillwoods a favorite local haunt for meeting up with close friends or a quick informal meeting.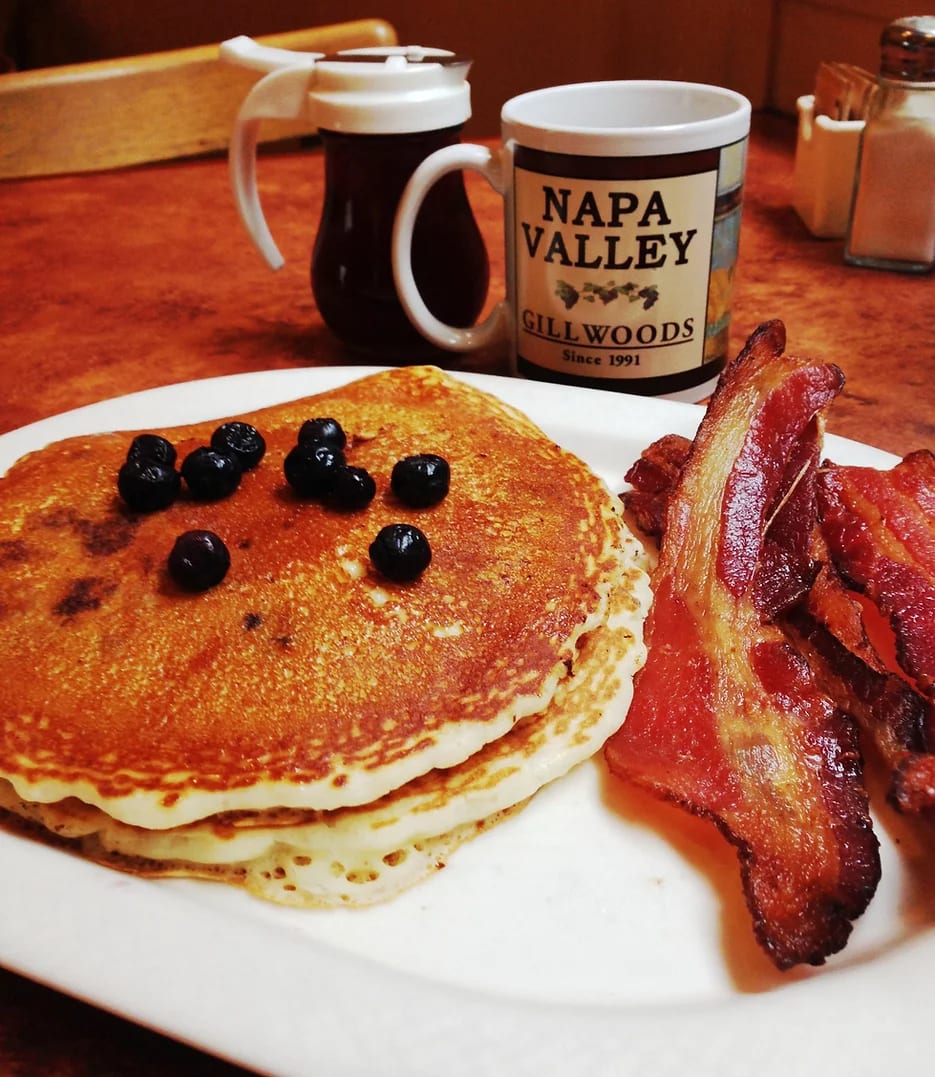 Credit: Gillwoods Café
4. The Station
If you're on the go in Napa Valley, pick up a quick cup of coffee from The Station. This roadside stop focuses on providing organic, fresh beverages—fast. If you're stopping by for breakfast, try the smoked salmon toast or the organic breakfast wrap. For lunch, they have a variety of bowls, sandwiches, and soups that are both healthy and delicious. Make sure to check the website for opening and closing hours, as they do vary throughout the week.
5. The Brasswood Bar and Bakery
The Brasswood Bar and Bakery is a cozy and elegant bakery with a menu inspired by local farms and made from fresh, local ingredients. Experience hand-made baked goods and classic Californian cuisine in a warm and welcoming space where guests can unwind and relax. Brasswood offers the option to customize your beverage with various syrups, extra shots of espresso, and milk alternatives such as almond, oat, or soy. Add a tasty meal to your order with a selection of salads, pasta, and sandwiches. Try out a breakfast burrito containing eggs, crispy potatoes, and bacon, or their roasted beef salad. For those needing a quick bite, they also offer to-go lunch boxes. The Brasswood Bar and Bakery is open daily from 8:00 AM to 5:00 PM.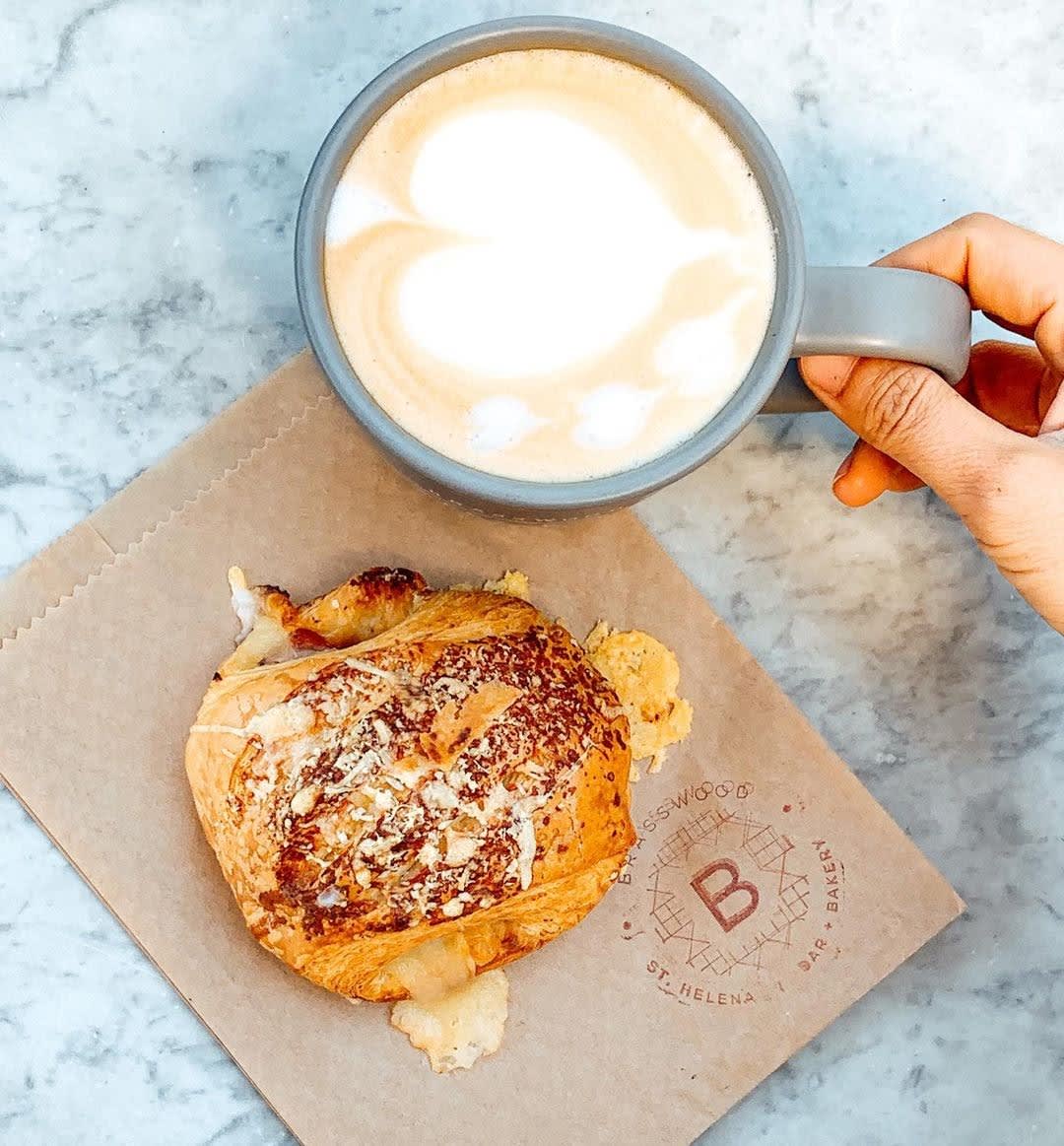 Credit: Brasswood Bar and Bakery
6. Caffe della Valle
Taste the true flavors of St. Helena cuisine at Caffe della Valle. Whether you choose an espresso macchiato or a creamy Latin latte, there are a variety of flavorful coffee beverages to enjoy. Pair your delicious coffee with an early morning snack like fresh fruit or a breakfast bagel. If you'd like to have your coffee later in the day, enjoy it with some fresh flatbread pizza, salad, or a sandwich. The hours here vary throughout the week, so make sure to check their website prior to planning your visit.
7. Farmstead's Garden Lounge and Café
Farmstead's Garden Lounge and Café is a relaxing spot with outdoor seating options. It's the perfect location for a summer morning cup of coffee or a nice breakfast with friends. Choose from a selection of coffee, pastries, and breakfast sandwiches. This café only serves breakfast, and a few small snacks and baked foods throughout the rest of the day. The coffee pairs well with granola, pastries, muffins, avocado toast, or breakfast sandwiches. No reservations are needed. They're open Wednesday to Friday between 7:00 AM to 2:00 PM and from 7:00 AM to 11:00 AM on the weekend.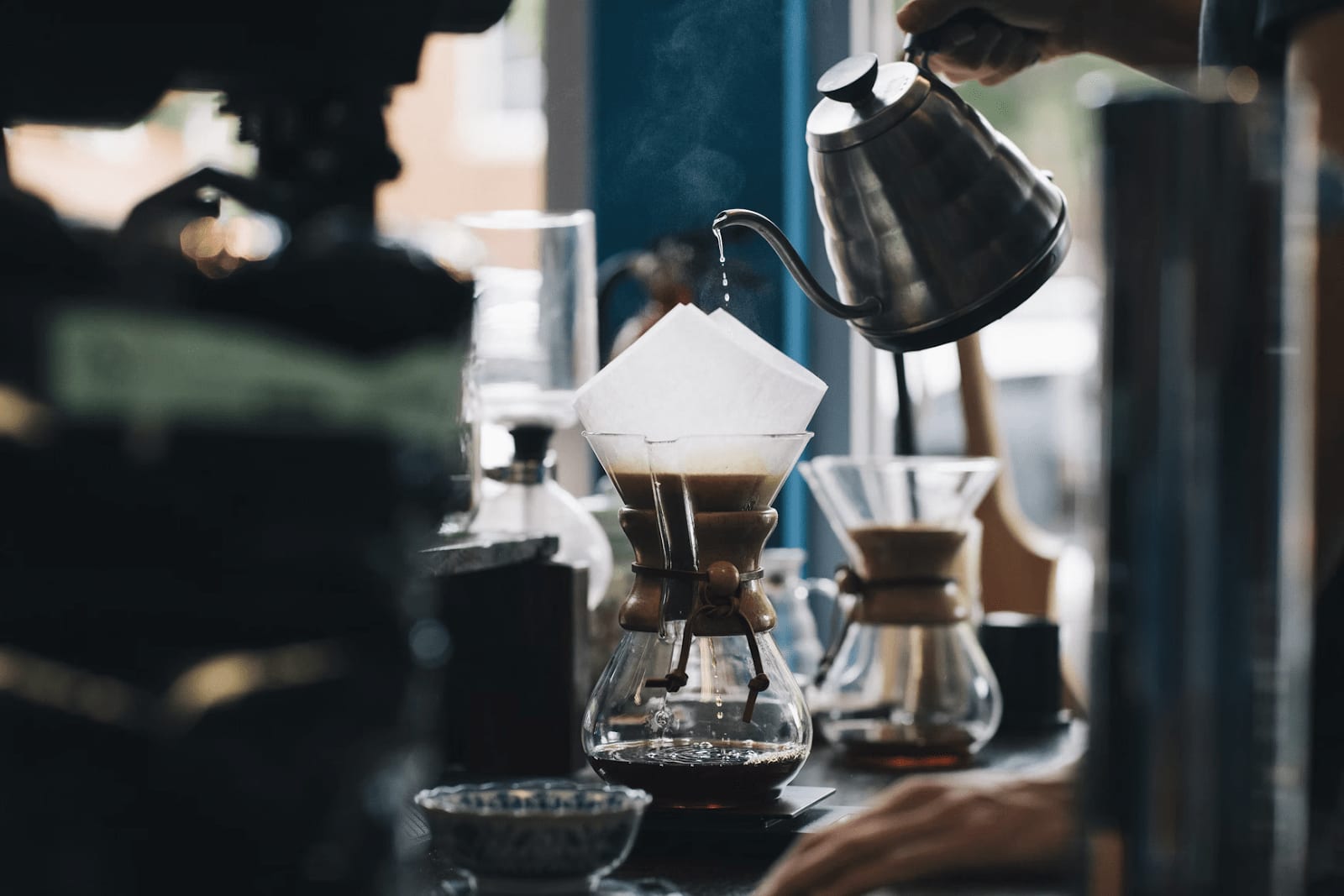 8. Harvest Table
If you're looking for a menu that highlights the best cuisine and coffee in Napa Valley (as well as a beautifully decorated restaurant), Harvest Table has it all. Their ingredients are sourced daily from several gardens throughout the area and all meals are served family-style. There are a few classic coffee options on both of their breakfast and brunch menus, including cappuccinos, chilled lattes, and traditional black coffee. Harvest Table serves breakfast from 8:00 AM to 10:30 AM and brunch is served on the weekends from 10:30 AM to 1:30 PM.
9. Giugni & Son
Located on Main Street, Giugni & Son has a wide selection of homemade bread and nearly everything you could ever want in a sandwich. The restaurant has an assembly line set-up where you can watch your sandwich be prepared as you sip your coffee. And when it comes to caffeine, Giugni & Son does not disappoint. Not only are their prices unmatched, but their coffee is also made with great care and roasted to perfection.
10. Calistoga Roastery
With an extensive list of coffee, iced beverages, and blended drinks, the Calistoga Roastery is the perfect café for coffee enthusiasts. The breakfast menu contains classic dishes such as fresh bagels, house-made granola, and tasty breakfast sandwiches — but the emphasis is on coffee. On a hot summer day, taste one of their frozen mochas and lattes for a delicious boost of energy. If you're trying to warm up, order a freshly brewed cappuccino. All the items at Calistoga Roastery are available to-go, and they're open seven days a week from 6:30 AM to 12:00 PM.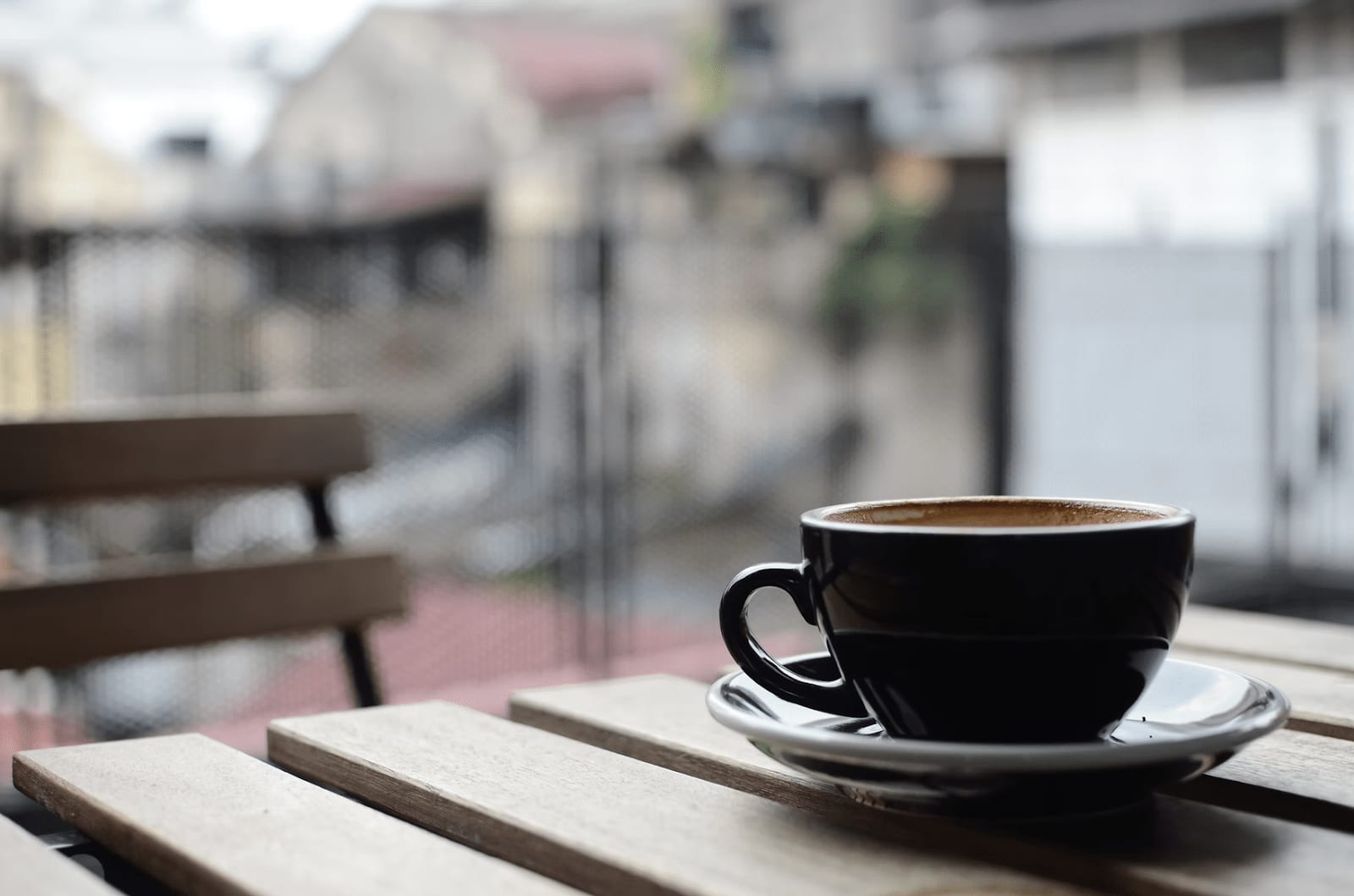 Searching for St. Helena homes for sale?
Once you're properly caffeinated and ready for some house hunting in Napa Valley, contact Coldwell Banker Brokers of the Valley for expert guidance and the best luxury listings St. Helena has to offer.