Are you ready to start looking at Napa homes for sale but worried you won't be able to sell your current home? If you want to buy and sell at the same time, you certainly aren't alone. In fact, you're in the majority as 71% of repeat home buyers own their previous homes. This means you're not the only one in the sometimes stressful situation of synchronous selling. If you are ready to list your home and also prepared to buy a new house in Napa, you can increase your chances of having a successful journey if you plan ahead. Here are some tips to help you out.


Make Some Logistical Plans
Your Napa realtor will tell you that the area is currently experiencing a hot seller's market, which means there are more potential buyers than homes for sale. While this type of market will benefit you when you sell your house, it will likely work against you when you begin looking for other Napa homes to buy. That's why it's essential to do some pre-planning for all possible scenarios, so you don't find yourself in a situation where you have nowhere to live. Consider the following:
◾ Find a short-term rental. Some people have the option of living with friends or extended family members if they've sold their home but don't yet have a new one to move into. Others are not so fortunate or would prefer not to live with others. If you don't have a place to stay while you continue your home search, consider renting a home for a few months. This will take some of the pressure off and allow your family more space and normalcy than if you stayed in a hotel or with family members.
◾ Get a storage unit. Whether you are moving into a rental or staying with someone else while you look for new Napa homes, you likely won't be able to take all your stuff with you. Rent a storage unit to store your excess furniture, décor, and other belongings to facilitate the moving process and keep your temporary home clutter-free. You may want to consider securing a storage unit at the beginning of the selling process as well so you can remove extra furnishings to help with staging.
◾ Rent your home. Though in this market you'll likely sell your current house in this market before you buy a new one, it's still possible the opposite will happen. Paying two mortgages isn't on anyone's wish list. One way to avoid this is to rent out your current home either short-term to temporarily cover the mortgage or long-term as a way to make extra income. With the housing shortage in Napa, you'll likely be able to rent it easily.
Consider Financing Options

The perfect scenario in a synchronous buying situation is that you sell your current home and use the equity from that to put a down payment on your new house. Unfortunately, things rarely work out so neatly. If you find a new home before you sell the one you currently own, you'll need to have a backup plan for a down payment and other fees. Here are some common solutions:
◾ Cash-out refinance. Take advantage of the low mortgage interest rates and do a cash-out refinance of your primary home. This type of loan pays off your current mortgage and gives you extra cash depending on how much your home is worth. You can use this cash to put toward a down payment on your new home and other expenses as you wait for your current one to sell. With refi interest rates still hovering around 3%, you may even be able to lower your monthly payments while still getting the cash you need.
◾ Sell assets. If you have investments or tangible assets such as classic cars, precious metals, or valuable jewelry, you can sell these to pay for your down payment and closing costs. While this means you'll lose out on any asset appreciation, you won't have to pay interest on a new loan.
◾ HELOC. A HELOC, or home equity line of credit, is a revolving loan secured by your current home. HELOCs usually have lower interest rates than other types of loans if you have a good credit score and a low debt-to-income ratio. You can also choose how much of the credit you want to use and only pay interest on that portion of the loan.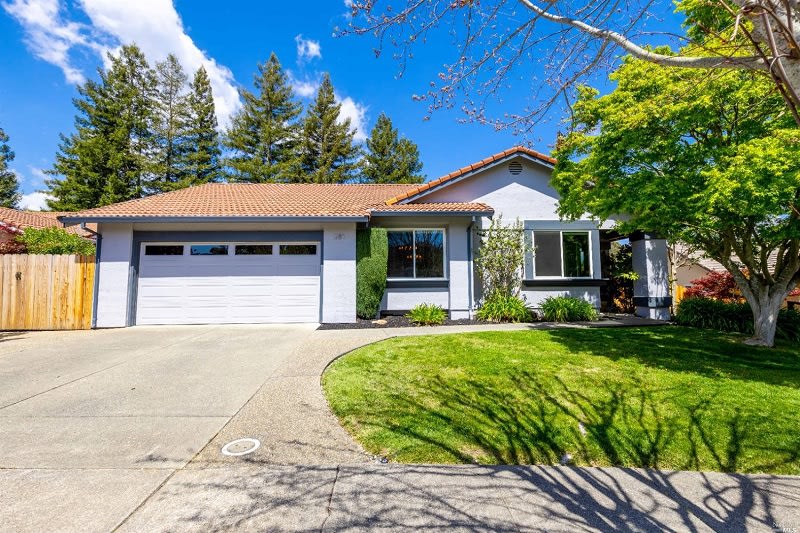 Look at the Worst-Case Scenario
When buying and selling simultaneously, it's important to talk with your Napa realtor about the worst-case scenario and how it will affect your finances. Usually, this scenario involves buying a new home and covering two mortgages for a significant amount of time. Ask yourself the following questions to see what this means for you financially:
◾ Do I have enough cash available to make a down payment and pay closing costs on a new home if I cannot sell my primary residence?
◾ How long can my finances handle paying two mortgages?
◾ Do I have enough cash to pay for moving expenses and any repairs or upgrades on my new home if I cannot access the equity in my current home?
◾ Will covering two mortgages and closing/moving costs have a negative impact on my retirement or ability to save for an emergency fund?
If you are not in a comfortable financial position, and if paying two mortgages and other expenses will severely impact you, you may want to hold off on looking for Napa homes until you can sell your primary residence.

One of the best ways to ensure you successfully buy and sell a home at the same time is to work with an experienced Napa Valley realtor like those at Coldwell Banker Brokers of the Valley to help guide you through the process. Ready to start the process? Reach out to a local realtor today.