Over the last two years, interior design trends have shifted. Designers are now finding new ways to use colors that infuse homes with feelings of life, calm, and optimism. Color is back in a big way. Industry experts predict that home decorators in 2022 will use soft but bolder colors than in 2021. You'll notice that many of these colors whisper rather than shout, but that doesn't mean you can't successfully update your Napa Valley home using these color trends.
1. Very Peri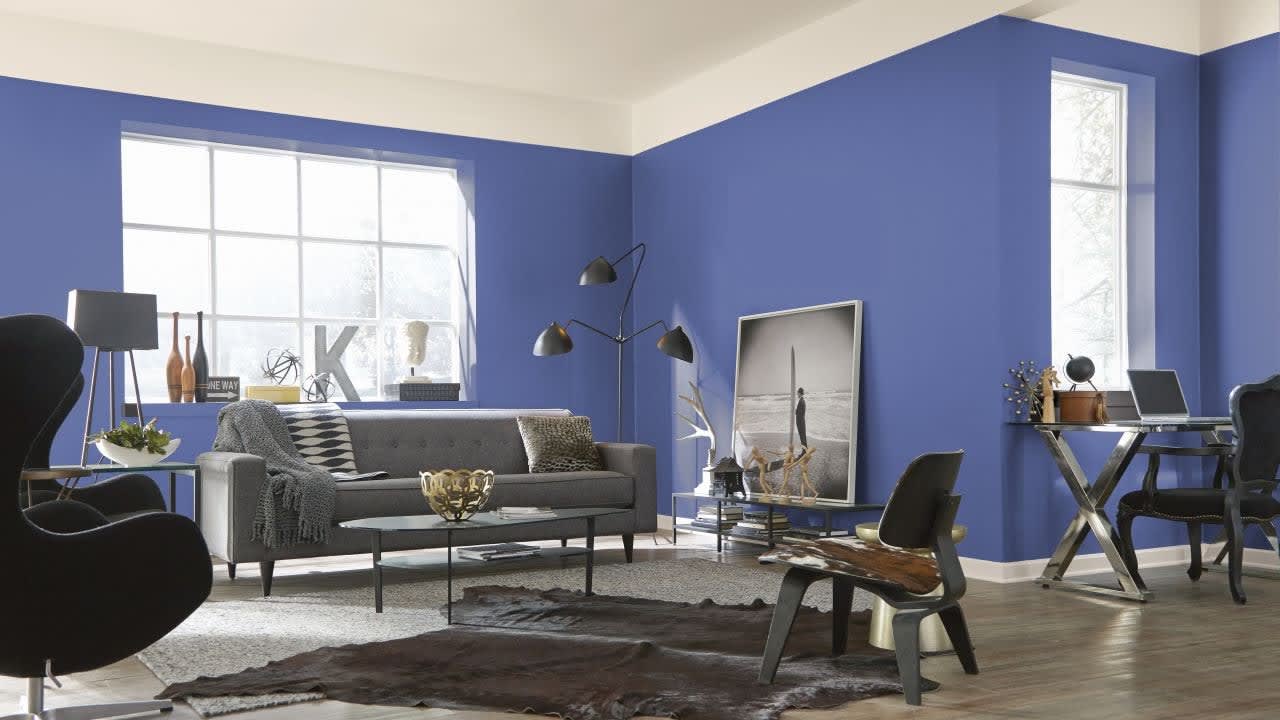 Photo courtesy of Fox Business
Each year, Pantone, a company that helps brands and graphic designers by providing industry-standard colors, chooses a color of the year. This year, the company has created a whole new color in Very Peri. Designed to encourage "personal inventiveness and creativity," this color would bring to life any of the Napa Valley homes for sale.
The company invented Very Peri in an effort to encapsulate the national feeling of reemergence as we return to our lives in the most normal way we can. Pair Very Peri with neutrals, such as creams, or deeper shades, like dark blue or brown. Don't be afraid to use this color with different textures, like velvet or leather. This dazzling blue with red undertones will pepper your Napa Valley real estate with a sense of optimism.
2. Soft greens
In 2021, many homeowners in the United States preferred neutral colors that were easy on the eye given all the time that was spent at home. In 2022, soft greens are going to trend, greens like Sherwin-Williams Evergreen Fog. Green is a color that hearkens back to nature, creating a calming effect and helping us feel revitalized and active.
Soft greens are delicate, and they offer a pop of color without being overpowering. You may even get creative with your Napa Valley real estate and use these soft greens on a front door, shutters, or trim. Combine this tone with light browns and other neutrals to achieve a peaceful yet energized look.
3. Light-washed indigo
Aleutian is a light-washed version of indigo that promotes balance and mental well-being. It is a cool shade with red undertones, thus marrying warm and cool colors. It's a versatile partner with natural wood finishes and hardwood floors. This shade can be used in living room spaces, but it can also be an unexpected backdrop for your home office in 2022. Experts say it will boost productivity.
4. Valspar Gilded Linen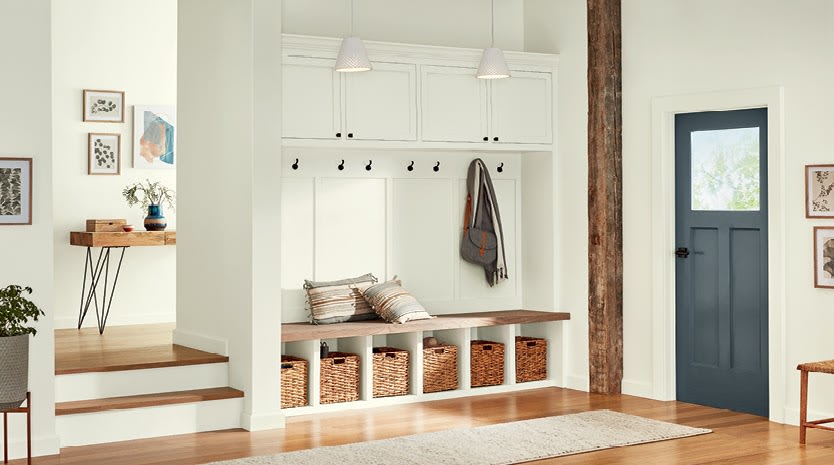 Photo courtesy of Valspar
This creamy white was developed with a behind-the-scenes commitment to forward-thinking positivity and a splash of confidence. What emerged from the manufacturer is an adaptable white that is easy on the eyes. This color is perfect for the open floor plans that are frequently used throughout Napa Valley real estate. A neutral like this reaffirms our desire to have an organized, clean space with plenty of light, ideal for a busy family. It's a traditional shade, so it works well with entryways and hallways. For accents, warm wood tones bring a bit of coziness or add blues and grays to make the color pop even more.
5. Subtle peach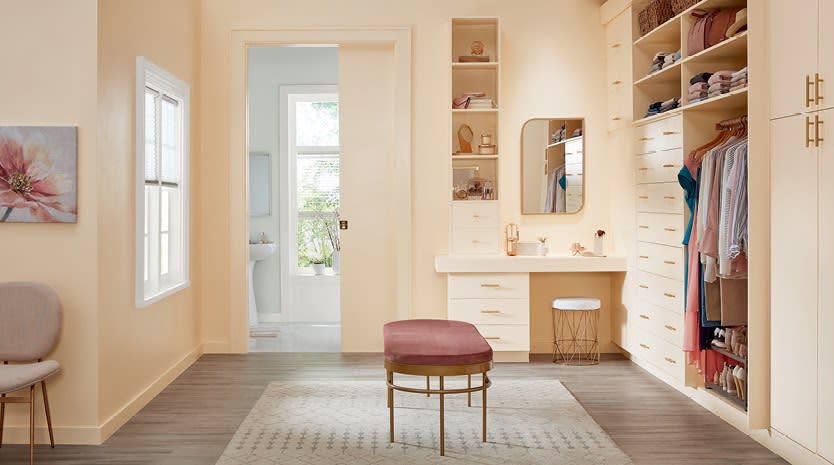 Photo courtesy of Valspa
r
Are you hoping to create a cozy space with some light color in your Napa Valley real estate? Look no further than this subtle peach color, which will add life to any room year-round. It could be ideal for your dream walk-in closet as this neutral tone complements skin colors and is a fantastic background for selfies!
Additionally, you could use this color for a less intimate space, like a gallery wall. Perhaps your bathroom needs a splash of color that's not too overpowering. This subdued color can inject a bit of spice into your Napa Valley real estate.
6. Art and Craft
Dunn-Edwards named this warm, earthy tone their 2022 color of the year. This brown tone aligns with the natural trend in design. It's a soft, refined brown that embodies the grandeur of wood and offers a serene grounding effect. It's a down-to-earth color that evokes "stability and calm," elements we're all seeking to incorporate at this time into our lives.
Art and Craft is a brooding, deep color that can be used in large living spaces. For accents, think neutrals to brighten it up or even bright jewel tones for a lavish look. This chocolaty brown would complement the scenic landscape Napa Valley is known for.
7. Citron
In past design trends, yellows have fallen out of popularity due to the fact that they can, at times, be overwhelming or even make a new home feel older. However, earth-inspired yellow tones are making a comeback in 2022, as more and more people are finding novel ways to make their spaces sunnier in the midst of years of tumult.
Yellow tones like Citron — colors that resemble the petals of a sunflower — are energizing and enlivening. These tones can breathe new life into any property in a community that is already alive with activity.
Interior design trends are ever-evolving. As the world around us changes, we too rethink what we want to see and how we want to feel in our homes. The trends listed above all evoke emotions that homeowners want to feel when investing in Napa Valley real estate: feelings of peace, hopefulness, and energy. From deep brown to bright citron, these color trends are sure to transform your space into a home.
Are you ready to start decorating one of the Napa Valley homes for sale? Reach out to Coldwell Banker Brokers of the Valley for expert guidance on finding the home of your dreams!