St. Helena is a charming little town in the heart of Northern California's famous wine country. It's surrounded by vineyards, tasting rooms, and luxury accommodations that draw visitors from around the world. St. Helena is known as the "Main Street" of Napa Valley and is located about 70 miles north of San Francisco.
With a full-time population of about 6,000 residents, St. Helena has a wonderful small-town atmosphere centered around its historic downtown, and its bustling vineyard and vacation economy. There are options for fine dining and wine tasting downtown, as well as many others hidden in the surrounding countryside. One of the things that both residents and visitors love about St. Helena is the outdoor access to this beautiful region of California. And it's always nice to have someone else do the navigating, so you can fully embrace the sights and tastes of this unique agricultural region.
Below are five exciting excursions to take from St Helena that will give you a great perspective on what the area has to offer residents.
Balloon tours
The most thrilling way to get oriented with St. Helena and wine country is to take a ride in a hot air balloon over the vineyards and rolling hills. Among the best companies that provide these memorable rides is Napa Valley Aloft in Yountville, which is just 10 miles southeast of St. Helena. Napa Valley Aloft has operated since 1978 and is one of the original hot air balloon companies in the valley. It's a great way for people who buy St. Helena real estate to become familiar with their new surroundings and get an unbeatable perspective on Napa Valley.
Napa Valley Aloft is based at the historic Yountville Estate but has other exclusive launch sites located throughout the area. Besides incredible views of vineyards and nearby mountains, there are days when favorable winds allow the balloons to climb high enough for passengers to see the San Francisco skyline in the distance, as well as the mighty Sierra Nevada mountain range to the east. Napa Valley Aloft has hot air balloon baskets that carry fewer passengers than other companies, which gives passengers more room to enjoy the experience. The company also has strict safety guidelines, and its FAA-certified hot air balloon pilots have unmatched experience flying over the wine country terrain. Napa Valley Aloft offers packages that include an unforgettable balloon ride followed by brunch and wine tasting.
Napa Valley Wine Train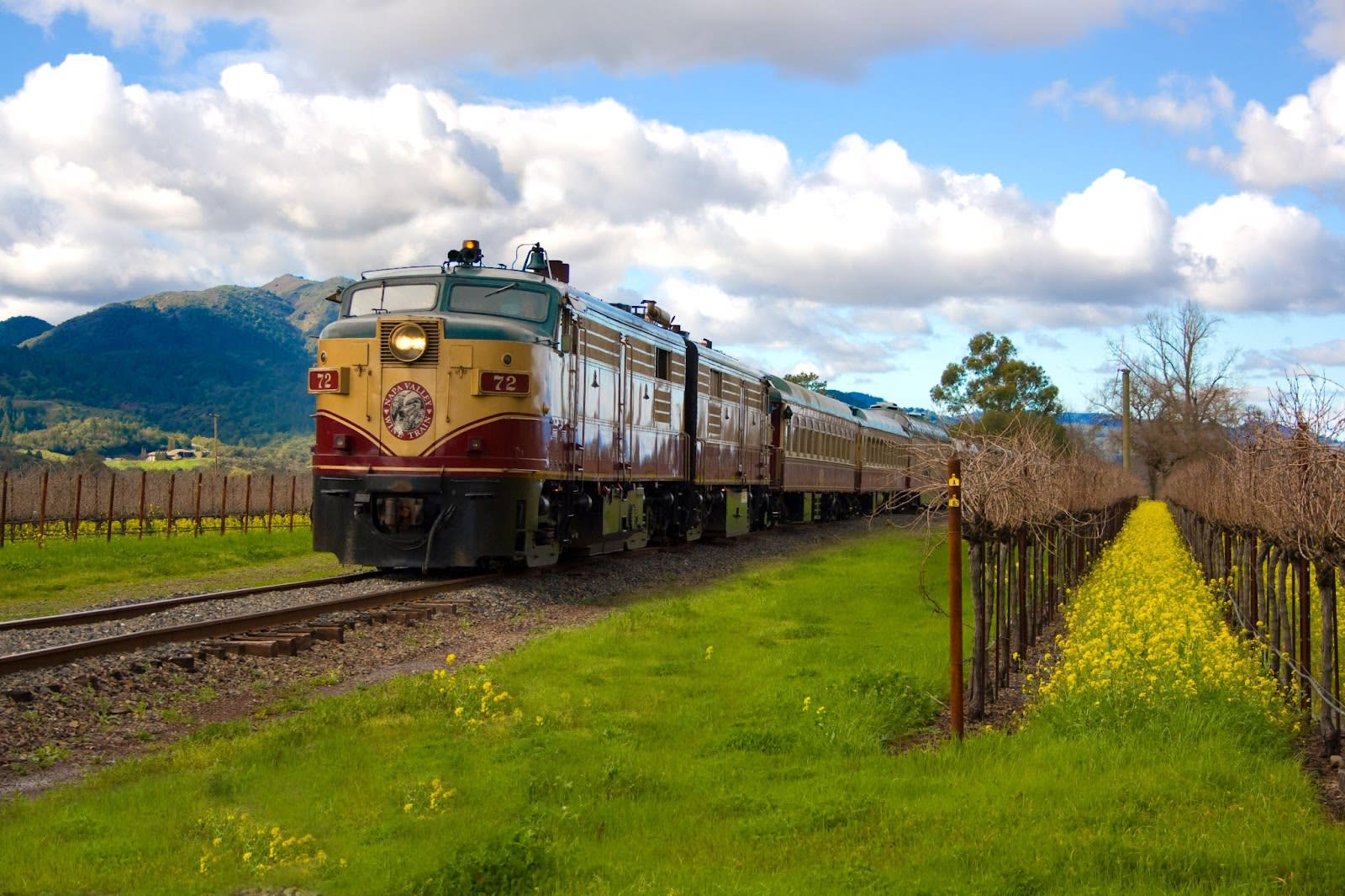 A unique way to tour wine country (and take a trip back in time) is aboard the elegant and historic Napa Valley Wine Train. The Napa Valley Wine Train offers a three-hour, 36-mile round-trip from downtown Napa to St. Helena, and back. Not only will passengers be drinking in views of the wonderful landscape, but they will be enjoying fine dining as they are whisked through the countryside.
Passengers board the train at the McKinstry Street Station in Napa and travel through the old industrial section of town before heading out into wine country. Along the way, the train passes farms and estates, as well as historic towns like Oak Knoll, Yountville, Oakville, and Rutherford. The Wine Train operates on a rail line that was built in 1864 to take visitors to the resort town of Calistoga.
The three-hour tour is a great way for locals who own a St. Helena wine country home to get away from the daily grind and enjoy a multiple-course gourmet lunch prepared by chefs in one of the four onboard kitchens. Among the menu offerings are pan-seared Pacific halibut and roasted beef tenderloin. There are various luxury packages available that include options for lodging and a full day of wine tastings.
Bike tours
A perfect way for new St. Helena residents to visit tasting rooms along the Napa Valley Wine Trail is to take a bike tour. St. Helena Cyclery specializes in renting bikes, so guests can take a spin through wine country at their own pace, stopping to tour specific vineyards and tasting rooms. Bikes can be rented by the day, including classic road bikes, hybrids, and new e-bikes. E-bikes help cyclists of all abilities venture further and even take a jaunt into the nearby mountains. St. Helena Cyclery delivers bikes to guests staying in Napa Valley resorts or inns and is a great resource for tours, equipment, and group exercise.
Platypus Wine Tours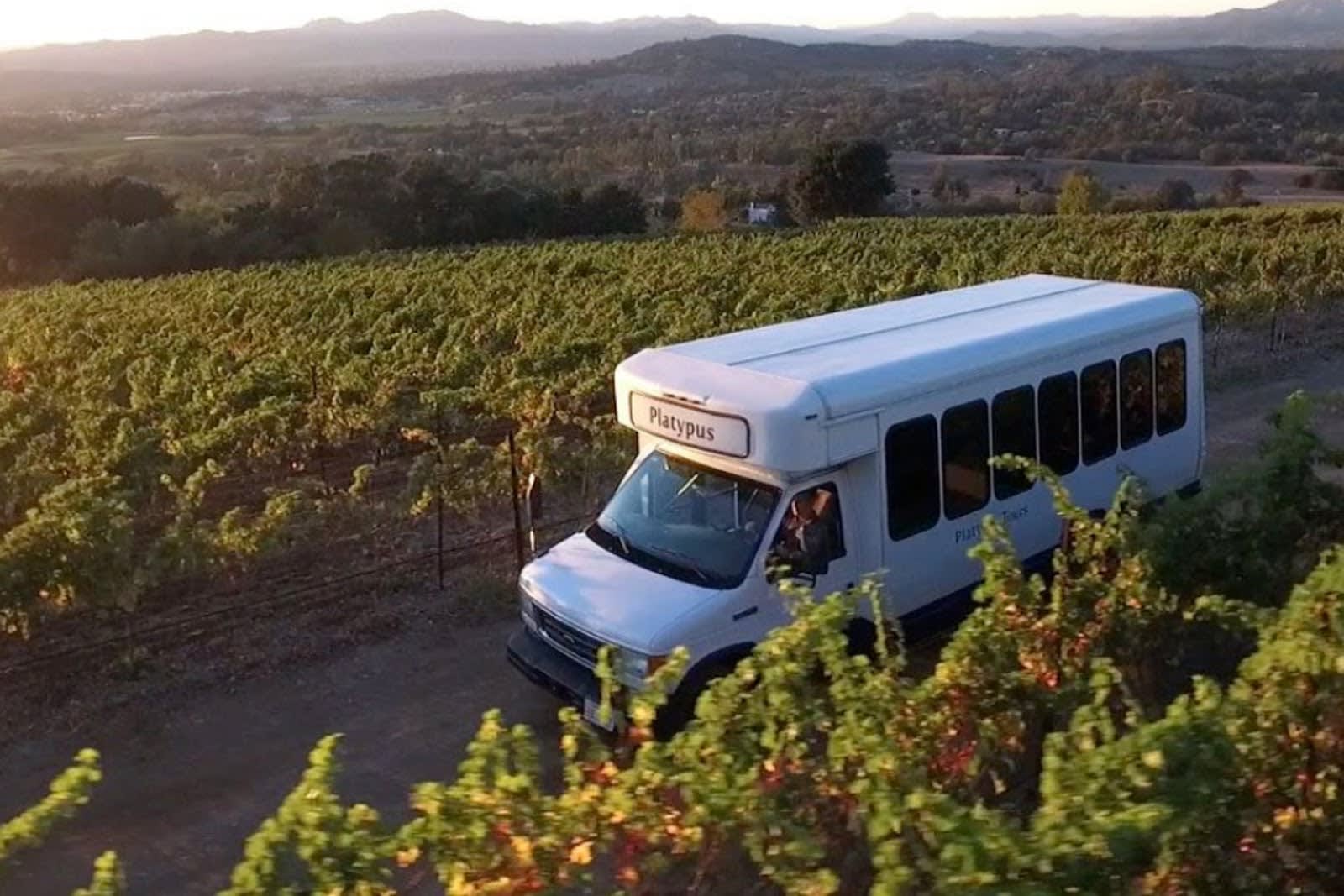 Platypus Wine Tours offer both private and group wine tours aboard their shuttle, as well as lots of local knowledge about Napa Valley for new residents. Platypus visits smaller wineries that are a bit more off the beaten track, but also allows customers to work with experienced guides to come up with customized tours to visit the wineries of their choice. Platypus handles all arrangements and provides a tasty picnic lunch to enjoy along the way. Platypus Wine Tours is located in Napa, about 25 miles from St. Helena.
Horseback tours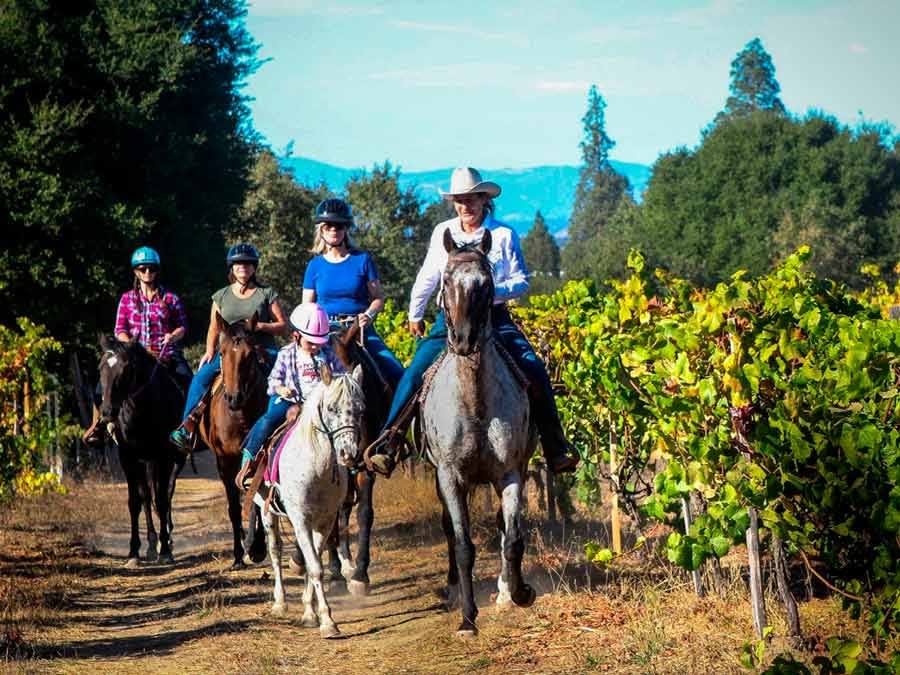 Another memorable way to experience Napa Valley is by horseback. The Ranch at Lake Sonoma, which is about 40 miles northwest of St. Helena, offers well-loved horseback tours for all skill levels, and the rides highlight the rugged and scenic terrain of wine country. After a day in Sonoma County's largest park, riders can relax at the beer and wine bar with views of Lake Sonoma and Dry Creek Valley.
Looking at houses for sale in St. Helena?
Housing in California, particularly luxury homes in St. Helena, remains in high demand. Prices have soared as luxury buyers from around the world have discovered what a great place it is to live. According to Zillow.com, the median price of St. Helena real estate is $1.9 million—which represents an increase of 17.7% during the past year. Most St. Helena mansions and large estates are priced far above the median and offer breathtaking views and agricultural potential.
No doubt—the best way is to experience St. Helena and the rest of Napa Valley is to own a personalized piece of wine country. If you're interested in luxury homes for sale in St. Helena, or anywhere in Napa Valley, contact Coldwell Banker Brokers of the Valley to guide you through every step of the buying process.