Napa Valley is renowned for its world-class wineries, however, the region is home to some first-rate golf courses, too. Golfing in California's Wine Country means jaw-dropping landscapes, superb facilities, and gorgeous weather. Many of the courses in Napa Valley are also PGA-certified and have amazing greens. Get ready to tee off surrounded by stunning hillside vineyards in beautiful Wine Country.


Chardonnay Golf Club
Play 18 rounds of outstanding golf at the Chardonnay Golf Club! Surrounded by chardonnay, pinot noir, and merlot vineyards, this golf club is the epitome of Wine Country. Part of the property is a wildlife preserve, so you are bound to run into all sorts of animals like hummingbirds, golden eagles, rabbits, and squirrels. As you make your way through the fairway, you will also see tranquil lakes and creeks.

The Chardonnay golf course is suitable for all levels and has an interesting mix of holes. There are six par threes, six par fours, and six par fives on this semi-private facility. The club offers a Quick.Golf game in which golfers can play four holes for a discounted price. This is a great option for those wanting to sneak in a few holes without playing an entire match. The Chardonnay Golf Club recently launched their Hole-In-One Program which allows golfers the opportunity to win a cash prize if they make the third hole in just one shot!

Immerse yourself in the beauty of Wine Country at the Chardonnay Golf Club.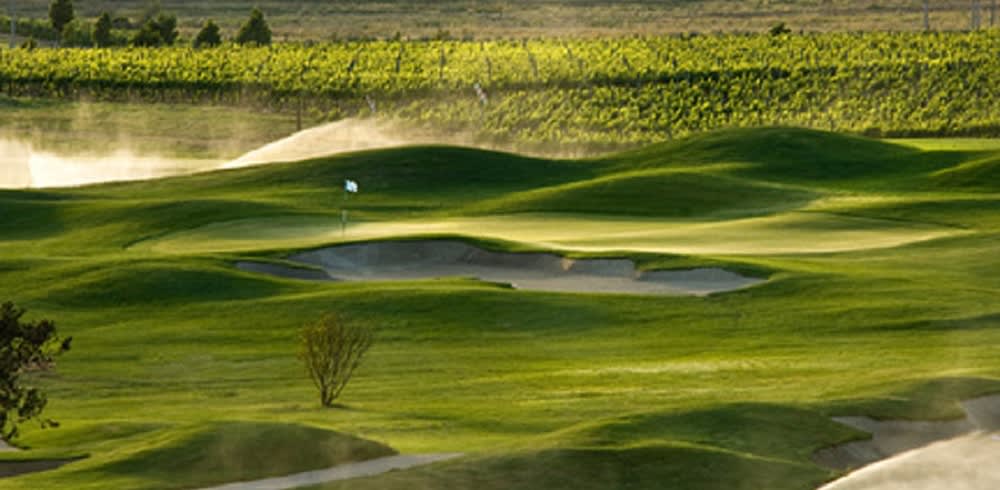 Credit: Chardonnay Golf Club


Silverado Resort
Play on one of two PGA courses at the Silverado Resort! Boasting some of the country's best golf, Silverado Resort is one of the most luxurious golf facilities in all of Napa Valley.

Both 18-hole championship courses were redesigned by PGA Hall-of-Famer and Silverado Resort Owner Johnny Miller. Make your way through oak-lined fairways and water crossings as you challenge yourself at each hole. The facility even has a full-length turf driving range, large practice putting green, and large practice chipping green.

Silverado Resort also provides lessons for those who want to improve their game. Private instructions and adult clinics are led by PGA and LPGA pros. Get expert tips and insights on how to sharpen your skills and perfect your technique.

There are two golf academies offered at Silverado Resort as well. The Johnny Miller Golf Academy gives players a chance to learn from the former PGA Player of the Year. Polish your swing or putting game as you're taught by one of the best golfers in the world. The Junior Academy helps young golfers grow in the sport. Kids are taught golf fundamentals so that they learn the basics and develop a love for the game.

Due to Silverado's acclaimed nature, you must be a club member to play at this elite resort. However, those who join receive exclusive perks including an invitation to yearly events and camps. Access to the resort's suites, restaurants, bars, recreational facilities, and spa is also included. Club members can even host golf tournaments and outings in which they book a "Golf Buddy Trip" complete with high-quality golf matches, villa-style accommodations, and private dinners. Play a round at Silverado Resort for a professional and premier golfing experience.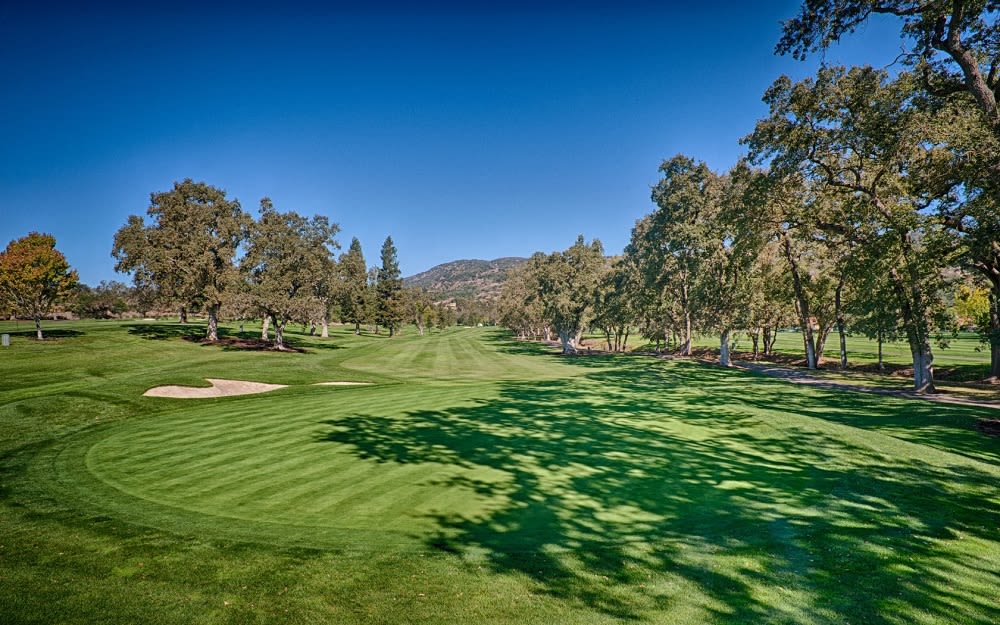 Credit: Silverado Resort


Eagle Vines Golf Club
The challenging yet entertaining 18-hole course at Eagle Vines Golf Club is a Napa Valley favorite. The property is completely enclosed by nature, giving the course a serene ambiance.

This par 72 course was also partially designed by Hall-of-Famer Johnny Miller. The most picturesque hole is the par-five that is framed by two lakes adjoined by a creek. As you look behind you, you will see a majestic waterfall flowing from the 18th green.

Eagle Vines Golf Club offers PGA instruction courtesy of golf professional Matthew Munoz. Options include playing lessons, course management, and group instruction and clinics. Enhance your full swing and short game while working on your physical fitness and mental approach.

Tournaments are held regularly at Eagle Vines Golf Club and can accommodate both small teams and large groups. Tournament packages cover green fees and include golf carts, range balls, access to practice facilities, on-course contests, and personalized scorecards. Participants receive all-day food and beverage service, too.

Spend a day under sunny California skies at Eagle Vines Golf Club!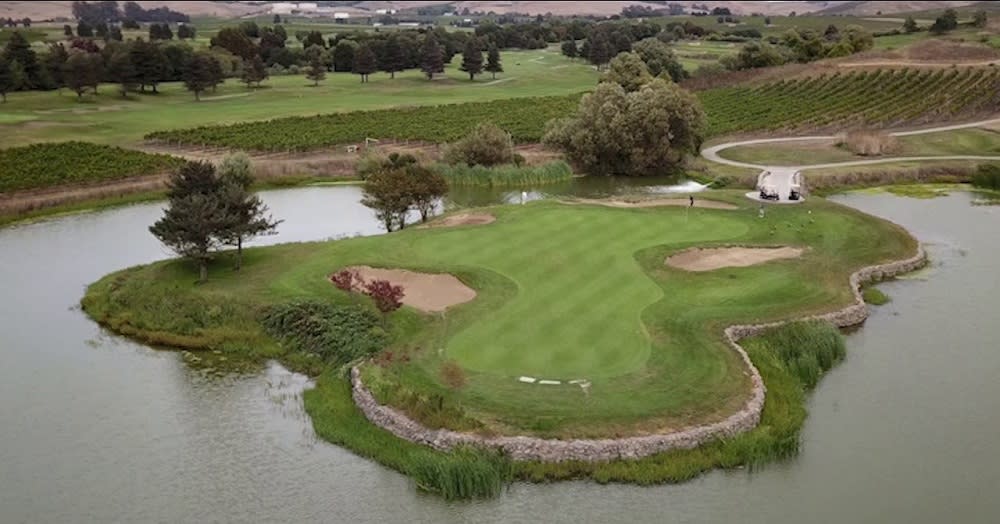 Credit: Eagle Vines Golf Club


Napa Valley Country Club
Take in the breathtaking scenery while you play a round of golf at the Napa Valley Country Club. Bask in the peaceful Napa countryside as you make your way through 18 holes.

This USGA-certified course has elevated tees and greens enveloped with tree-lined fairways. The front nine holes were built in 1915, giving off a classic feel. The back nine holes are more modern, however, as they weren't added until 75 years later. The Napa Valley Country Club has two short-game areas and a practice range as well.

Throughout the property, you will see exquisite landscapes and blooming flowers. The club even has 60 electric golf carts for those who wish to cruise around the course and take in the sights.

The Napa Valley Country Club is a private association and as such, has standout amenities. The clubhouse is the perfect place to hang out or grab a meal after you finish a match. The country club's shop is stocked with all the best golf gear and is run by PGA golf professional, Tom Sims! Golf lessons and clinics are also offered by the PGA pro so that youth and adults alike can hone in on their skills.

For a timeless course bursting with natural wonders, visit The Napa Valley Country Club!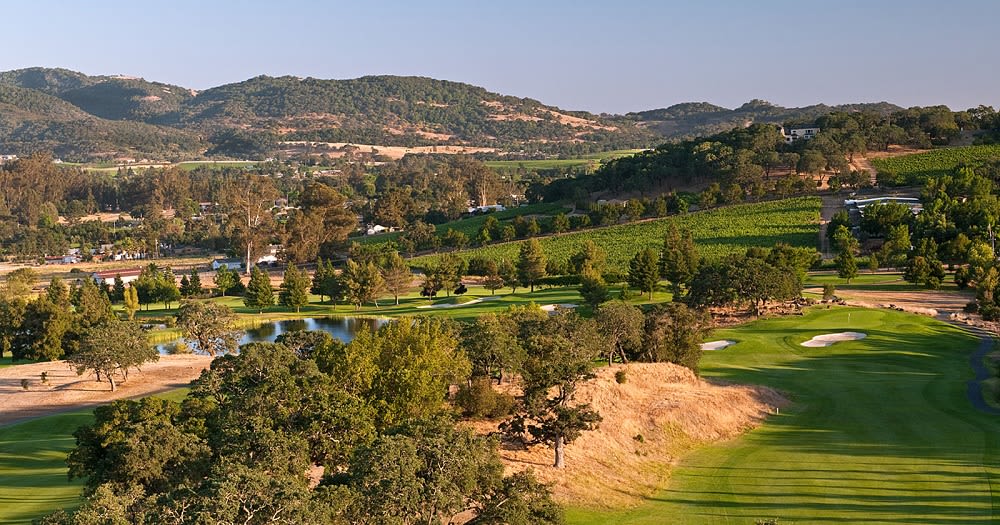 Credit: Napa Valley Country Club


Vintner's Golf Club
For some of the best greens in Napa Valley, make your way to Vintner's Golf Club! Voted the Best Up-Valley Course by Napa Sonoma Magazine, Vintner's is a prime golf destination.

Vintner's Golf Club features a nine-hole course that was created by golf course architect Casey O'Callaghan in 1999. The course was later redesigned by PGA professional Bob Boldt in 2003. Whether you're a beginner or an expert, this championship course can accommodate all levels of skill. Since the course at Vintner's is only nine holes, it gives players plenty of time to enjoy the wineries afterward, too!

Vintner's Golf Club hosts all types of golf tournaments. Players can choose to add a wine tasting or dinner service to their event for a complete Napa Valley experience. The club has regular Tuesday and Thursday night golf leagues as well. This is the perfect way to play a round of golf in a fun social setting.

If you're looking for some guidance on the sport, become a part of Vintner's Golf Club Academy of Professional Instruction. The club's instructor — Jeff Dennis — has won over 40 Pro-Am Tournaments in Northern California. Jeff uses his comprehensive knowledge of the game to teach golfers of all ages and skill levels.

Vintner's has a great golf shop and lakeside restaurant on its property, too. Vintner's Golf Shop has all of the latest gear and apparel including prestigious brands like Titleist, FootJoy, and Monterey Club. The Lakeside Grill serves up delicious food and drinks with stunning views of Napa Valley.

Play at Vintner's Golf Club for one of the most memorable games of golf in the Golden State!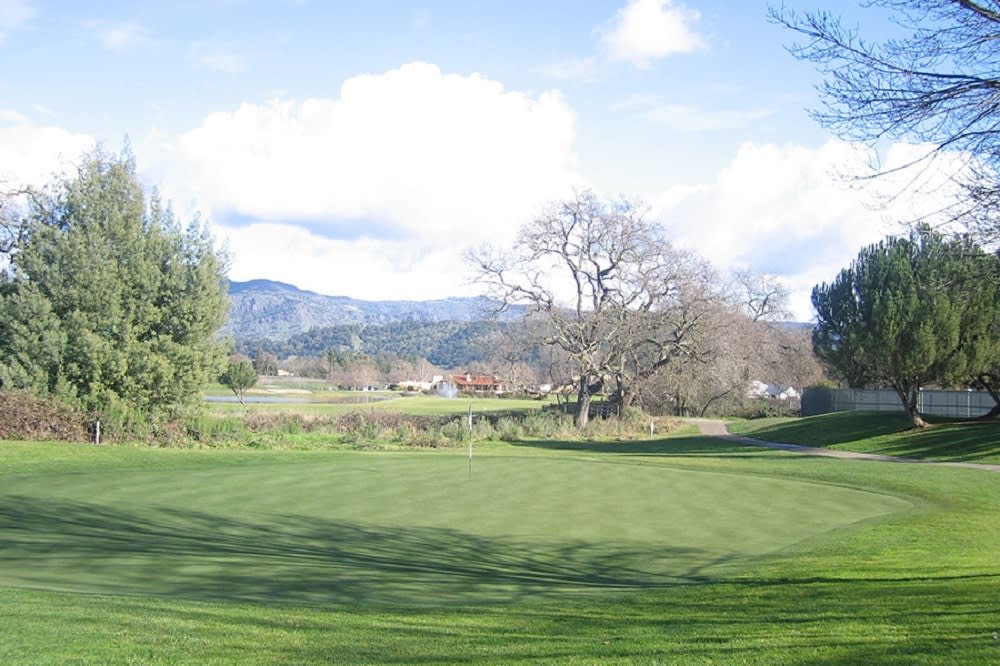 Credit: Yountville


Napa Valley Real Estate
If you are interested in Napa, California, luxury homes, contact the Coldwell Banker Brokers of the Valley. This team of esteemed real estate experts will help you navigate California's Wine Country to find your perfect slice of paradise.